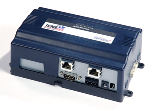 Surrey, British Columbia, Canada – Efficient Building Automation Corp. (EBAC), a leader in open-protocol building automaton control products, and Lynxspring, Inc., a technology company with a focus on interoperability, are pleased to announce a strategic OEM partnership that will allow EBAC to supply and support the Niagara platform and products to its channel of authorized System Integrators and value-added resellers. 
As part of EBAC's ongoing strategy to deliver integration options and solutions, the Lynxspring JENEsys™ Niagara product will allow EBAC to provide its clients with an industry proven, third party protocol integration platform.  "The addition of Niagara products to our existing offering was something that was both being requested by our System Integrators, and was something we ultimately felt would benefit our customers in delivering multi-protocol automation solutions." said Fraser Newton, Manager of Sales and Business Development for EBAC.  "Through our market evaluation for a Tridium OEM relationship, we felt that Lynxspring – as both our technology partner and product supplier – would provide EBAC and our clients the best service and support, and a distinct competitive advantage."
The Lynxspring JENEsys product will be branded by EBAC as Circon Facility Integrator.  The Facility Integrator (FI) Niagara integration platform will work seamlessly with the existing AX Wizards for Circon controllers as well as third party products developed to function within the Niagara framework.  The FI products are now available and more information, such as part numbers, product data and pricing, can be obtained by contacting EBAC directly.
To view this release in PDF format, please click here.
About Efficient Building Automation Corporation
Efficient Building Automation Corporation (EBAC) is a privately-held provider of open, interoperable and integrated facility automation products and services. More than a leading-edge developer and manufacturer of products based on LonWorks® open systems technology, EBAC is dedicated to helping its integrator customers apply the most appropriate technologies, tools, products and services to a wide variety of facility automation and control requirements.
For more information, please visit our website: www.circon.com
About Lynxspring, Inc.
Lynxspring manufactures and distributes web-enabled, open protocol control solutions to fit the simplest to the most complex criteria building owners expect in today's market. Using Tridium's web-based NiagaraAX software in an embedded platform, Lynxspring provides normalized interoperability with standard and open protocols, and many legacy systems. Lynxspring believes that the intelligent use of both unique and third-party software products can increase quality assurance, productivity and repeatability in any market that uses an integrated approach in design, development and deployment of products and services.
For more information, please visit our website: www.lynxspring.com