The Circon SCC-410: Powerful, Interoperable, Easy.
The Circon SCC-410 controller provides System Integrators and building owners with the missing link in HVAC building automation and industrial controls a low cost premium, fully programmable DDC controller that provides optimum control for virtually any terminal unit application such as: Rooftop Units, Fan Coil Units, Heat Pumps, Unit Ventilators, Air Handlers, and Plant Control.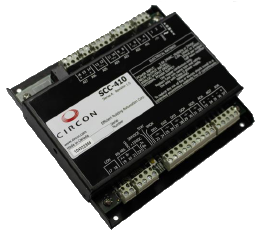 The SCC-410 is easily configured and programmed through the Circon LNS plug-in and Catalyst graphical programming tool, and both software tools are available at no cost to EBAC clients.  As with all controllers in the Circon product suite, the SCC-410 is part of a flat system architecture, meaning that no hierarchical controls (ie. system or network control devices) are required.  The benefit is a cost-effective, flexible programmable solution that can easily be integrated into a building automation system.  Due to its truly open platform, the SCC-410 is a preferred product choice in large LonWorks-standardized projects, such as US Army Corps military bases and Federal GSA buildings.  Click here to view the SCC-410 datasheet, or contact EBAC today to learn more about this and other product and service solutions.