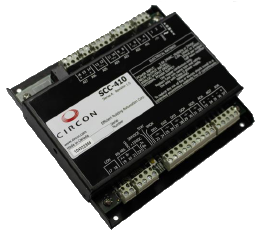 Surrey, BC – Efficient Building Automation Corporation (EBAC), a leading provider of open building automation solutions, is pleased to announce the upcoming release of the SCC-420 Flexible I/O Controller (Multi Protocol).
Looking for a low cost premium, fully programmable BAS controller that can support multiple protocols at  the same time?  Then SCC-420 is the perfect fit.  Control virtually any terminal unit application such as: Rooftop Units, Fan Coil Units, Heat Pumps, Unit Ventilators, Air Handlers, and Plant Control.  Seamlessly and easily pass data between BACnet/IP, LON, and Modbus networks.
The Circon™ SCC-420 combines easy-to-configure I/O with flexible protocol gateway functionality, all at an incredible price per point and all as standard features.
Circon's acclaimed Catalyst® graphical programming tool is used to freely program SCC-420 for an exceptional application and gateway flexibility.
Key features of the SCC-420 include:
Powerful, industry-leading 32-bit ARM processor
Incredible price per point
Onboard scheduling, trending, alarming
Fully programmable with flexible and easy-to-use Circon Catalyst® programming tool
High performance BACnet/IP capability with support for variety of analog, digital and multi-state server and client objects with create as you go feature. Built in BACnet browser.
High performance LonTalk® capability with support for variety of static and dynamic network variables including structured variables with create as you go feature.
Expand the I/O using the built-in RS-485 port with the Circon UIO-184 Expansion Module
Alternatively, the RS-485 port can be used to communicate with third-party Modbus RTU devices
Highly flexible protocol gateway functionality
5 relay outputs and 3 analog outputs simplify connecting to a variety of digital, floating and analog-controlled actuators
5 resistive inputs connect to a variety of sensors
2 voltage inputs for CO2, current monitoring, etc.
To view the SCC-420 datasheet click here.
For more detail, please contact EBAC at info@circon.com or +1 (604) 503-4404.
About Efficient Building Automation Corporation
Efficient Building Automation Corporation (EBAC) is a privately-held provider of open, interoperable and integrated facility automation products and services. More than a leading-edge developer and manufacturer of products based on LonWorks® open systems technology, EBAC is dedicated to helping its integrator customers apply the most appropriate technologies, tools, products and services to a wide variety of facility automation and control requirements.
For more information, please visit our website: www.circon.com